Old Skool Principles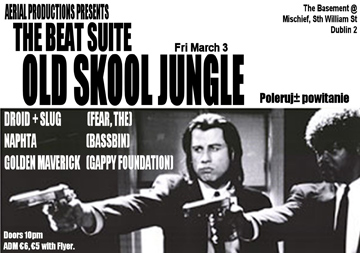 Back again this friday with another top notch line up.. this time we're back in "The Basement" @ Mischief for some underground bizniz with an oldskool jungle night!
Our chosen selectors are as follows:
The Golden Maverick
To kick things off we have a true jungle veteran. A
member of the Gappy Foundation crew, he has had numerous shows on the infamous Power FM back when it was on the airwaves! sadly missed imo.
Be prepared for some serious choppage and rude bwoy tune selection. so be sure to get down early!
Naphta
A proud parent of the bassbin massive.
With releases on looney toonz and bassbin recordings, also the mastermind behind the "soverign rhythms" mixes. two of the best mixes ever recorded!
Not much more to say that yiz already know.. besides amazin selections, and tight mixing.
Unmissable!
Droid + Slug
The tightest and most precise oldskool djs you'll ever see and hear! -
These two junglists are unique at what they do, a truly unparralled pair of djs.

Be prepared for the most exquisite selections, with the ninja skills to match. They're also responsible for www.thefear.ie and the droid + slug@studiob mix - another top class oldskool recording...

Again, an unmissible act..





Bring the horns for this one!



Lookin' forward to this. Hope to see some local readers there tomorrow night... its €5 in with a flyer, €6 without. Hopefully youll get to hear a recording at some point in the near future as well...