Give Us The Night!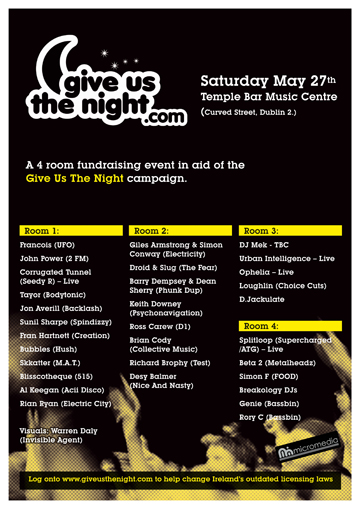 Give Us The Night
is an independent volunteer group of professionals within the music industry, campaigning to bring about a change to the licensing laws in Ireland, with particular regard to nightclubs. We formed as a campaign group in September 2004, in response to Garda Síochána proposals recommending the curtailing of nightclub opening hours to 1.30 am from their current 2.30 am curfew. Our instant response resulted in a nationwide print and internet campaign - www.giveusthenight.com - which in only 6 days garnered over 21,000 petitioned signatures supporting our position. It was subsequently ruled in the Dublin District Court on October 1st that the existing 2.30 am time limit for serving alcohol in the city's nightclubs would remain. Currently our campaign is lobbying for sequential closing times between bars, late bars and nightclubs across Ireland and creating debate and logical discussion about licensing laws with a view to bringing in progressive Irish licensing laws for the whole country in the long term. We encourage the public to read our mandate and to join our campaign.

Nuff said.

Myself and Slug are playing early at this on Saturday, and if hermits like ourselves can be dragged out for such a cause, then the likes of you who actually go out to gigs on a regular basis ought to turn up in droves!

So if youre going to the Breakage Album launch, or the Rootical Dance, or wherever this Saturday - do yourself (and everybody else in this backwards nation of ours) a favour and come on down to support this beforehand or afterwards. Or even stay all night!

There should be something there to suit everyone's tastes...