Weare(penomenom)1e continued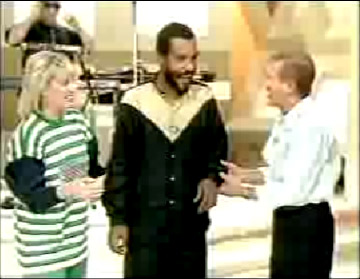 More birthday joy to share with you today. A little something that I culled from the DHR boards not long ago, and just had to spread the love. A nice mini-documentary about Daddy Freddy and his appearance on record breakers back in 'the day', going for the 'World's fastest rapper' title.

Theres loads of great footage in there, and I think I might actually have seen
this at the time, as its certainly from the era when I would have been watching - have to say though, when I encountered Daddy Freddy again through his mid-90's collaboration with ragga-junglist Marvellous Cain, I had completely forgotten this ever happened - or in fact that he even existed! All I need now is that Fast Chat competition that was shown on 'The Word' in the early 90s and Ill be a happy robot!

Needless to say, he ranks amongst my favourite MC's now amongst the likes of Major Mackerel, Ninjaman, Admiral Bailey and the Saxon fast chatters - maybe someone out there with a good knowledge of the UK soundsystem era could provide some more info on him?

Heres the vid

- reasonable quality Windows Media Video - 24mb.

Enjoy.