Blogariddims 16 / Raggamortis : 1
So - episode 16, and the baton is passed back into Weareie's sweaty hands once again. A solo outing for myself this time, and the content is given away (just slightly) by the title. Props to MC Pikey Dread for his exclusive dubplate intro - I stripped it down to the acapella for use in the mix, but you can hear the original here. Of Trindadian and Tobagoan descent, but born and raised on a halting site near Belmullet Co.Mayo, I think you'll agree that Ireland's first homegrown dancehall style MC has a bright future ahead of him!



"When computers came in, that's when the amateurs took over. The Japanese got stuck into reggae and they made it so easy that any man could go down the road and buy an ordinary little synthesizer that's even got one beat already in it called reggae. You didn't need a band, you could do it at home on a four-track and release it - just press up a couple of hundred copies and sell it"

- Dennis Bovell



"...people using the computers without the skills made the music very simple, then so many people want to get into it because it don't seem too difficult and so they keep it simple once their in and it stops progressing..."

- Sly Dunbar

I've been obsessed with digital dancehall since I first heard the Sleng Teng, and for the past few years Ive been amassing a large collection of tunes from the genre. I realised late last year that there was no way I could play the kind of sets I wanted to play if my collection stayed in it's current formats, spread out as it was over hundreds of LP's, CD's and 7"s, so like DJ Flack, I decided last summer to digitise my collection and sort them all by riddim for ease of use. This is still ongoing, as despite my best efforts, Ive still only managed to get about a third of my tunes onto the computer. One thing that came from this process, is that despite my high regard for the first wave of Jammy's-initiated digital era, I discovered that it's the second wave of tunes from this period, or the 'ragga' end of things that really blow me away. Producers like Bobby Digital, Dave Kelly, Patrick Roberts and Steely & Cleevie, (many of whom started out working at Jammy's) were the midwives to an explosion of sounds and labels in the late 80's/early 90's alongside many more obscure producers who were empowered by the democratisation of the means of production brought about by the availabilty of cheap music hardware. As the quotes above attest, not everyone was happy with this situation, and the comparisons to the reaction of 'real' musicians to the UK's rave phenomenon is obvious. Like rave, early 90's dancehall is an example of 'scenius' at its best. Uncontrived and functional music aimed at and driven by intimate interaction between artists and their audience and propelled by commercial successes - resulting in extremes of both experimentation and derivation as the 'scene logic' worked its magic. Given the influence that this flowering of output (about 5000 singles a year at it's peak) had on the UK rave scene itself, should ragga have an honorary place in the 'ardcore continuum?. Would jungle have happened if dancehall hadn't shifted up a gear a few years beforehand and started making inroads into mainstream consciousness? After all, the vast majority of classic ragga jungle tunes and ragga influenced hardcore sampled only the top layer of dancehall - tunes that had already achieved massive success in reggae circles, were readily available on compilations, and in some cases even made it as far as the charts!

Anyway, gonna cut this intro short as there's extensive notes in the tracklisting below. Before I do though, a few words about how and why this episode was created. Originally planned as a kind of footnote to a couple of dancehall mixes currently in the works (but of course I finished the footnote first!), this mix was supposed to gather together all those weird one-off tunes and riddims that were too crucial to ignore, but wouldn't really fit into more conventional sets. I wanted to showcase the astounding inventiveness and originality of the era, so I had a simple ground-rule that I decided to use for all of these mixes: original riddims only - no 60's or 70's recuts! You might think that this would be a major handicap considering how many brilliant re-versions came out during this period, but on the contrary, I was desperate to find some way to cut down on the huge amount of choice at hand, and this seemed like a pretty good (and conceptually sound) way to do so. This set also constitutes my first foray into digital DJng. I used Ableton to make the first 25 minutes or so, an experience, though liberating at first, became immensely frustrating. The ability to go back and tweak your mixes is handy it has to be said - but where does it end? You could spend years poking and prodding a set this way and that before deciding it was 'finished'. I was also worried that all this time spent in front of the computer was robbing me of valuable practise time on the decks - after all, one of the aims of this whole process is to be able to play a decent live set...

Tail between my legs I returned to the trusty old 1210s/CDJ 800s, hooked up the Chaoss pad and bit the bullet, the results of which can be heard in the 2nd half of the mix (from 'Full up of Class' on) which was done the old fashioned way in 2 sections and then put together in Soundforge. It was a gruelling process, as (like hardcore and rave), this stuff is a complete nightmare to mix. Apart from the difficulties of the differing sound quality of different formats, there's also problems with quantising, versions of the same riddim produced by different producers, and (as is common in this period) vocal phrasing that consistently starts at the end of the bar, making straight cuts impossible. I got round this by adding a new trick to my DJng repertoire - counter instinctively cutting the 1st tune before the end of the bar with the main fader and then cross fading the 2nd tune in a few milliseconds later, thus chopping off the vocal and creating a gap at the end of the bar just before the mix out - which I filled in with a bit of live Chaoss pad delay, or, in a few places with some post-production FX...

The end result is a bit of a hybrid - half 'one-off-riddim' tunes garnered from LPs and compilations, and half 'dem bow' or 'Pocoman' riddims based on the Poco beat prevalant in early 90's dancehall - see Wayne's excellent guide to dancehall rhythm included in his write up for Blogariddims 11 for more info. Not precisely what I had intended, but hey - it hangs together reasonably well, and it does give a smidgen of exposure to a criminally overlooked branch of dancehall...

The usual rundown of how to get access to this excellent podcast: You can subscribe to the entire cast here (I'd definitely recommend signing up and starting at the beginning btw). Instructions on how to subscribe are here. If you just want to peruse and download a few episodes, you can do so here, and if you want more info, Paul Autonomic has been documenting each episode here.



Droid - Blogariddims 16/Raggamortis : 1 (86mb.mp3)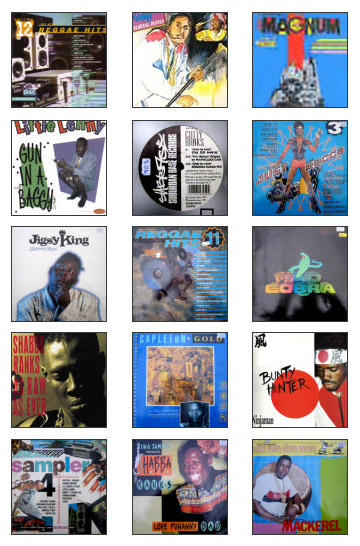 1. Papa San - Maddy Maddy Cry - Survival - (Granny

Riddim

) (1992)




2. General Degree - Granny - Main Street - (Granny

Riddim

) (1992)




3. General Degree - Granny Walk and Rock - Main Street - (Jam

Riddim

) (1992)




4.

Flourgon

-

Bogle

With me Gun - Main Street - (Jam

Riddim

) (1992)




5.

Steelie

&

Cleevie

- Pickpocket (357 Magnum version) Steely & Clevie - (357 Magnum

Riddim

) (1989)




6. Johnny P - Cut up Steely & Clevie - (357 Magnum

Riddim

) (1989)




7. Lady Venus - Best friend a

gi

you bun Steely & Clevie - (357 Magnum

Riddim

) (1989)




8.

Ninjaman

- Don - Steely & Clevie - (357 Magnum

Riddim

) (1989)




9. Lady

Patra

- Gun Inna

Panty

- Steely & Clevie - (357 Magnum

Riddim

) (1989)




10. Little Lenny - Gun in a baggy - Shocking Vibes (Gun Inna Baggy

Riddim

) (1989)




11. Wendy Culture - Still a rush me - Shocking Vibes (Gun Inna Baggy

Riddim

) (1989)




12. Captain

Barkey

- Sound of the Gun - Shocking Vibes (Gun Inna Baggy

Riddim

) (1989)




13.

Beenie

Man - Agony body - Shocking Vibes (Gun Inna Baggy

Riddim

) (1989)




14. Little Lenny - Healthy body - Shocking Vibes (Gun Inna Baggy

Riddim

) (1989)




15.

Tanto

metro - Gal

Pickeny

- Shocking Vibes (Gun Inna Baggy

Riddim

) (1989)




16. Patrick

Roberts

- Gun Inna Baggy Version - Shocking Vibes - (Gun Inna Baggy

Riddim

) (2003)




17. Bunny General - Full Up Of Class - Montana - (Fever Pitch

Riddim

) (1993)




18. General Levy - Champagne Body - Fashion - (Fever Pitch

Riddim

) (1993)




19. Gospel Fish - From You Look Good - Fashion - (Fever Pitch

Riddim

) (1993)




20.

Cutty

ranks - Limb by Limb - Fashion - (Fever Pitch

Riddim

) (1993)




21. Sweetie

Irie

- Racist -

Musik

Street - (Unknown

Riddim

) (1993)




22.

Jigsy

King - No Sweet Boy - VP - (Unknown

Riddim

) (1995)




23. Ganja Ash & D-

Fex

- The Way you Love Me -

Swanyard

- (Unknown

Riddim

) (1991)




24. Mad Cobra - Rod Out - Carib Jamaica - (Unknown

Riddim

) (1991)




25. Mad Cobra - Rod Out -

Shang

Muzik

- (

Trailerload

Riddim

) (1991)




26.

Shabba

Ranks - Trailer load Of Girls -

Shang

Muzik

- (

Trailerload

Riddim

) (1991)




27. Junior Cat - Trailer load of Gun - Shelly Power - (Gun Talk

Riddim

) (1991)




28.

Nardo

ranks - Love mi Gun Bad - Shelly Power - (Gun Talk

Riddim

) (1991)




29. Louie Ranking - Don Doc - Shelly Power - (Gun Talk

Riddim

) (1991)




30. Papa San - Gun - Shelly Power - (Gun Talk

Riddim

) (1991)




31. Mikey

Merican

&

Nando

Boom - Know How to Work - Shelly Power - (Gun Talk

Riddim

) (1991)




32. Junior

Demus

- Easy

nuh

Man - Shelly Power - (Gun Talk

Riddim

) (1991)




33.

Capleton

& Bobby

Zaro

- Young Fresh and Green - Charm (1991)




34.

Ninjaman

- Sound Death - Blue Mountain - (Unknown

Riddim

) (1991)




35.

Shabba

Ranks & Krystal - Twice my Age - Music Works - (Twice my Age

Riddim

) (1990)




36. Sanchez & Lady G - Half my Age - Music Works - (Twice my Age

Riddim

) (1990)




37. Cocoa Tea - Exactly my Age - Music Works - (Twice my Age

Riddim

) (1990)




38. Papa San and Lady G - Round Table Talk - Music Works - (Twice my Age

Riddim

) (1990)




39. Gussie Clarke - Twice My Age Version - Music Works - (Twice my Age

Riddim

) (1990)




40.

Shabba

Ranks - Cant Keep a Good Man Down -

Jammys

- (Unknown

Riddim

) (1991)




41. Major Mackerel - Man Tonic -

Crat

- (Unknown

Riddim) (1993)

1. Papa San - Maddy Maddy cry - Survival - (Granny Riddim) (1992)
2. General Degree - Granny - Main Street - (Granny Riddim) (1992)
3. General Degree - Granny Walk and Rock - Main Street - (Jam Riddim) (1992)
4. Flourgon - Bogle with me Gun - Main Street - (Jam Riddim) (1992)
Even I have a lot of trouble making out all the lyrics to the opening tune, Papa San's 'Maddy Maddy Cry'. Its basically a tale of jilted love:

'Lord me cant take it no more/gi mi back the woman weh you gi me before/Lord me cant take it no more/mi cry and mi cry till mi eye dem sore...'

, but San's bizarre sobbing vocals make this one a bit special and it cracks me up every time. General Degree follows and turns up the novelty factor with 'Granny', a tune from his debut LP on Main Street, and one of the DJ's first hits. A conversational vocal in which Degree takes on the role of his Granny, this one's hilarious - from the opening: '

A coulda who say Granny no mise-er-able/If you live with your granny you will turn granny too/A who say granny nuh love the cussin/Fi mi granny she cuss fi everything...

', to 'Granny's' falsetto whining: '

I used to turn cornmeal and give mi dog/but that was long before it raise/I caan turn cornmeal no more a mi yard/Cause things get hard mi say nowadays...

' The Reggaeton rhythm connection with this riddim is self-evident, but there is in fact a recent tune that explicitly references the riddim and San's 'Maddy Maddy Cry', Pocho Pan's 'Eres bobo'...
More Granny action from the same LP with 'Granny Walk and Rock'. General Degree made at least 4 'Granny' tunes before the fad ran it's course, and this one's my favourite, with 'Granny' describing her dancing style over a bombastic horn driven riddim: '

Whether ya wear pants/or whether ya wear frock/Granny walk and rock a the new dance dat/just move up your shoulder and move up your back/and make sure say unno knee dem knock...

'.
'Jammys Super Power' DJ Flourgon makes his only appearance in the mix next with 'Bogle with me gun' exhorting the badboys to come correct on the dancefloor: '

Booyaka booyaka! boy a mad you must be mad/Booyaka booyaka! dont bogle like a gal/Booyaka booyaka! you fi bogle like a don/Booyaka booyaka point up yuh gun hand/Booyaka booyaka! if you wicked and bad/Booyaka booyaka! come show yuh gun hand...

' One fact about Flourgon I discovered when researching this post is that his brother is the DJ 'Red Dragon', something that piqued my interest as I've been rinsing their brilliant 1990 combination tune 'Follow Me' since I picked it up a couple of years back.
5. Steelie & Cleevie - Pickpocket (357 Magnum version) Steely & Clevie - (357 Magnum Riddim) (1989)
6. Johnny P - Cut up Steely & Clevie - (357 Magnum Riddim) (1989)
7. Lady Venus - Best friend a gi you bun Steely & Clevie - (357 Magnum Riddim) (1989)
8. Ninjaman - Don - Steely & Clevie - (357 Magnum Riddim) (1989)
9. Lady Patra - Gun Inna Panty - Steely & Clevie - (357 Magnum Riddim) (1989)
Master musicians Steely and Clevie,known as the 'other riddim twins' are the power houses of the the post-Jammys digital dancehall scene. The solid production of the 'Magnum' riddim, though a relatively functional piece, shows the riddim building skills that had DJs flocking to their studio in the late 80's/early 90's, and as far as I know, '357 Magnum' was the first 'one-riddim' LP on which they were credited as producers. There's four vocal pieces here, starting with Ninjaman-spar 'Johnny P's' commentary on Jamaican fashion trends, and moving on to the first of many female DJ tracks in the set, lady Venus' 'Best Friend a gi you Bun' in which she warns about the dangers of 'frienimies': '

Cause some man nowadays dem a push up dem chests/ah talk how much dem harder than the rest/A gwann like say im caan get burn/And as im left his house Joe grine im come...

'
Ninjaman next, with 'Don'. Ive been fascinated by the

'Original gun tooth, front tooth, gun pon tooth Don Gorgon'

since I first heard him back in the mid 90's. His versatility, humour, and boundless supply of lyrics on every topic under the sun combined with the stutters, drawn out syllables and other stylistic tics that constitute his vocal style make him a formidable DJ and account for his popularity and longevity in a scene dominated by one hit wonders. The downside to his unique delivery is that its unpredictability make it difficult to mix in and out of his tunes, as (like his one time competitor Shabba) he's constantly starting his phrasing before the bar starts, and truncating verses and choruses early. As a result you end up with 'DJ twitch' when youre trying to mix out of his tunes as you're constantly letting go and then pulling back the next track due to his vocals making some unanticipated twist or turn. I plan on writing something a bit more solid about Ninja sometime in the distant future, but heres a bit of biographical information that gives an inkling as to the reality behind his fearsome reputation as a badboy - or 'bad grandad' as he puts it himself:
"

...he had several run-ins with the law during the late '90s; among other allegations, he was accused of raping a woman at knifepoint in his home, and -- most seriously -- murdering a taxi driver in late 1999. He was acquitted on those charges, but convicted of unlawfully possessing a firearm and ammunition, and sentenced to a year in jail (also in late 1999). While serving his sentence, Ninjaman was reportedly assaulted by prison guards for attempting to shield his cellmate from a beating. Things didn't calm down upon his release, either; in July 2001, he was rushed to a hospital after suffering several machete wounds, some to the head, from a family associate trying to break up a physical dispute between him and his common-law wife. (He was later charged with domestic assault.) Several months later, he was arrested for driving erratically...

" Nuff said...
Lady Patra (yes

that

Patra!) concludes the selection with her counteraction to Little Lenny's tune from the next riddim set, and is not to be taken literally! '

Prom Prom! - yes we have a healthy body/Prom Prom!lord a god yuh know we fit and ready/Prom Prom! we no got no gun in a wi panty...

' If your a bit mystified by this read on - all will be explained...
10. Little Lenny - Gun in a baggy - Shocking Vibes (Gun Inna Baggy Riddim) (1989)
11. Wendy Culture - Still a rush me - Shocking Vibes (Gun Inna Baggy Riddim) (1989)
12. Captain Barkey - Sound of the Gun - Shocking Vibes (Gun Inna Baggy Riddim) (1989)
13. Beenie Man - Agony body - Shocking Vibes (Gun Inna Baggy Riddim) (1989)
14. Little Lenny - Healthy body - Shocking Vibes (Gun Inna Baggy Riddim) (1989)
15. Tanto Metro - Gal Pickeny - Shocking Vibes (Gun Inna Baggy Riddim) (1989)
16. Patrick Roberts - Gun Inna Baggy Version - Shocking Vibes - (Gun Inna Baggy Riddim) (2003)
The next riddim comes from Patrick Roberts' Shocking Vibes label. Best known for 're-discovering' Beenie Man in the early 90's, SVP have been a mainstay on the dancehall scene since their inception, and this bouncing piece (played by the Firehouse Crew), with its cheeky melody shows why. Interestingly enough, Shocking Vibes operated from the same building as Penthouse in the early 90's, so some of the magic must have rubbed off - and their use of the Saint Vincent dePaul logo on their labels shows that the magpie tendencies of dancehall extends beyond the audio side of things.
Little Lenny sets the vocal template with the hit that made him famous 'Gun in a Baggy': '

She, she, she have di gun in a baggy/She she, mind she shoot you with it

'. As mentioned above, this is not to be taken literally, and on closer listening its revealed to be a warning about girls who carry STD's '

All gunhorrea girls/mi a beg you hold it dun...

' Lenny released an LP (pictured above) on the strength of this tune and then faded into relative obscurity during the 90s.
Another counteraction from the fairer sex next as Wendy Culture comments that despite the fact that she have a gun in a baggy

'You still a rush me'

. A slew of vocally similar tunes follow, with Captain Barkey piling on the 'Pom 'Pom's' ('

The sound of the gun/Whe buss pon the road...

'), a youthful Beenie Man shifts to some 'Slam Bam's' in his paen to his own abilities in the sack '

Got the agony body/Fi all the gal pickeny

', Little Lenny revisits his earlier hit with 'Healthy Body' (from the same LP), and Tanto Metro winds up the vocal selection with 'Gal Pickeny', echoing Lenny's vocal pattern yet again. Metro is another DJ who faded from view during the 90's, but his career picked up steam again later in the decade after teaming up with the singer Devonte who were the biggest singer/DJ combo since Chaka Demus and Pliers - but like that duo, his best work came prior to his later commercial success.
The selection ends with a killer version - from the reissue of the rididm that came out along with a host of new vocals in 2003. None of the new vocal cuts match the originals, but this version is outstanding. Propelled by 'soundclash chops' and filed with wicked little edits and frills - I could listen to this one all day! The Blogariddims jingle is thrown into the mix as this one winds down, which calls an end to the first (Ableton generated) segment of the set.
17. Bunny General - Full Up Of Class - Montana - (Fever Pitch Riddim) (1993)
18. General Levy - Champagne Body - Fashion - (Fever Pitch Riddim) (1993)
19. Gospel Fish - From You Look Good - Fashion - (Fever Pitch Riddim) (1993)
20. Cutty ranks - Limb by Limb - Fashion - (Fever Pitch Riddim) (1993)
The second half of the mix opens with the 'Fever Pitch' rididm from '93. Reminiscent of the 'Bam Bam', this riddim was one of my earliest exposures to ragga dancehall from my junglist days, as Subbase included the original version of 'Limb by Limb' on the '95 12" of the infamous and wildly influential jungle remix 'The Hitman'. Bunny General kicks off with the spectacular 'Full up of Class', showcasing some of the best fast chating that ever came out of Jamaica. Running at about 100bpm, the riddim provides a deceptively sedate backdrop to General B's furious lyrics, most of which Ive managed to decipher: '

Talk from now till the morning man me nah feel like fi stop/While some a dem come dance reggae music some a dem come dem gimmie one drop/Wha me do? - put on mi pants and put on mi shirt and then mi put on mi hat/The woman and man dem in a the dance dem haffi get up and ready fi rock/Dem said now gwann now General B you are the cream of the crop/Thats why mi sweet and mi nice than the water in a jelly coconut...

' And as if the delivery wasnt hectic enough already, the pace shifts up another gear as things get nasty: '

Thats why me nuh ramp mi nuh loaf/mi a cut off yuh throat/nuh joke mi nuh make/mi chop off yuh neck/nuh skin mi nuh laugh/mi stab out yuh heart/nuh ramp with man/mi chop off yuh hand/mi chest mi back, mi belly, mi hat/long mi strong got ambition/but in a the dance with mic in mi hand/Mi take up the mic the woman a ram - the woman the man dem...

' Killer stuff.
Another jungle connection here as General Levy takes over with 'Champagne Body' on the bass heavy Fashion version of the riddim replete with popping cork sound effects. Though vocally this isnt really any competition to 'Full up a Class', the version is a huge improvement, with that brutal descending bass fill (also found in Penthouse's 'Action' riddim) at the end of each chorus pushing it to the next level. Another noticeable difference with the Fashion version of the riddim is the light tambourine style percussion which is panned completely over to one side. On the Montana version its panned to the right, on the Fashion versions to the left...
I had a wide selection of tunes to choose from for this selction, including a version of 'I will always love you' by Janet Lee Davis, 'If I was a rich girl' by Louchie Lou and Michie One, and 'My Girl' by Nerious Joseph and Tenor Saw, but I managed to cut it down to the four most crucial DJ tunes, with Gospel Fish's 'From you Look Good' just making the grade. Theres another UK connection with this artist as Gospel Fish (what a name!) apparently had a high profile on this side of the Atlantic with crossover hits featuring Aswad and Yazz(!) (according to Stephen Nye in the sleevenotes of Trojan's ragga box set that is).
'Limb by limb' rightly deserves its place in the pantheon of great ragga tunes and no Fever Pitch selection would be complete with this track. Utterly slack lyrics, vicious delivery and the little touches of irrevence provided by the pitched up running commentary ('

What a idiot...' 'A fool dat...

') make this one an instant classic and its influence has reached far beyond dancehall circles through the Marvellous Cain jungle remix, which launched a million imitations and was probably the last great ragga jungle record ever made...
21. Sweetie Irie - Racist - Musik Street - (Unknown Riddim) (1993)
22. Jigsy King - No Sweet Boy - VP - (Unknown Riddim) (1995)
23. Ganja Ash & D-Fex - The Way you Love Me - Swanyard - (Unknown Riddim) (1991)
24. Mad Cobra - Rod Out - Carib Jamaica - (Unknown Riddim) (1991)
25. Mad Cobra - Rod Out - Shang Muzik - (Trailerload Riddim) (1991)
26. Shabba Ranks - Trailer load Of Girls - Shang Muzik - (Trailerload Riddim) (1991)
I nearly went for the 'safe' option when mixing out of 'Limb by Limb', as I had a perfect mix out of it with Cutty's 'Hitman', from his 'Six million ways to die' LP, but instead decided on this anti racist anthem from UK DJ Sweetie Irie on Robbo Ranks' Musik Street label (as featured on Charm's 'Just Ragga 3'). Shifting from the basic Poco drum pattern of the last riddim, and doubling up on the guitar skanks, into the classic 'Bomp Bomp' dancehall beat, Sweetie gives the performance of his career with this militant number:'

You can tell the world ah so the bad boy tan/Sweet boy nah go powder no racist man/Unno can tell the world a so Robbo tan/Robbo nah go powder no rac... let me tell yuh now rudeboy - its like/tek up the knife mek sure it no blunt/Come a we demolish the national front/Brother check - come make we set up a plan/Just to get rid of the klu klux klan...

'
The (chronologically) latest tune in the mix is next, from Jigsy King's 1995 LP 'Ashes to Ashes'. This one makes an appearance mainly because I couldnt find anything else to get out of the last number, and this track was just about hectic enough to do the job. You can tell this is from a slightly later era due to the exceptional production and completely insane percussion featuring everything from croaking frogs, electric guitar squeals and a full electro drumset - definitely one for the headphones... Jigsy rides the riddim with aplomb as he advocates the talents of the 'raggamuffin man' over the 'sweet boy': '

No woman waan no sweet boy/which a go sleep pon the work and act like a toy/she want a raggamuffin man/who know bout the work and how fi stay long

' Theres also another slight junglist connection with this artist as his vocals starred (alongside Tony Curtis) on Leviticus' classic ragga jungle tune 'The Burial'.
More UK business from Ganja Ash & D-Fex and 'The Way you Love me', a fairly mundane tune DJ and riddim-wise, but it had to go on here due to the Regina Belle sample that makes up the chorus of the tune. This is of course the same sample which was so brilliantly exploited by DJ Taktix on the jungle mega-hit 'The Way' on Back to Basics, and also by D'Cruze on the lesser known 'Lonely' on Subbase. This version of course preceded them all, and I wonder if this is where Taktix first came across the sample? Taken from Jet Star's 'Reggae Hits 11', which I picked up 2nd hand a couple of years ago, I had a Pavlovian reaction when I dropped the needle on this for the first time, and I just knew it would end up in a mix sooner or later.
The Squeals of 'Rod Out' provide a handy escape route out of the previous tune, taken from Cobra's eponymously titled debut LP which was released prior to the Ninjaman imitating 'Badboy Talk' LP on Penthouse which pushed the DJ into the major league with the hits 'Gundelero' and 'Yush'. Handily enough, Cobra also did another (higher pitched) version of this on Clifford 'Specialist' Dillons 'Shang Muzik' label, and with a bit of help from a Chaoss pad assisted spinback we go straight into this alternate cut.
Ive taken a bit of liberty with this riddim and named it 'Trailerload' after the Shabba tune. If you check the riddim databases (and believe me - I have), you'll see that this is listed as 'Pocoman Jam' after Gregory Peck's wildly influential hit of the same name. The problem I have with this designation is that all it shares with 'Pocoman Jam' is the basic drum pattern (ditto for most of the tunes on this mix), its completely different melodically and the tempo is much slower, as the original Pocoman riddim clocked in at about 112bpm! This isnt the only example either. Ive got loads of tunes labelled as 'Pocoman Jam', which deviate significantly enough from the original template to warrant a riddim name of their own.
Shabba picks up from the Cobra version with the unintentionally humorous 'Trailer load of Girls' (from 'As Raw as Ever'): '

Wi have a Trailer load a girls down a wharf fi come off/need a customs officer fi help clear them off

'. By 'Trailer load' Im pretty certain Shabba's talking about a truck trailer, or what would be reffered to as a 'container' round these parts. It brings to mind a pretty incongrous image - Shabba down at the dockside in his baggy pants directing the cranes as they deliver his shipment of girls, and is an interesting example of the extremes of slackness - not only objectifying women, but reducing them to the status of pure commodity, being shipped alongside TVs, cars and guns (see below)...
27. Junior Cat - Trailer load of Gun - Shelly Power - (Gun Talk Riddim) (1991)
28. Nardo Ranks - Love mi Gun Bad - Shelly Power - (Gun Talk Riddim) (1991)
29. Louie Ranking - Don Doc - Shelly Power - (Gun Talk Riddim) (1991)
30. Papa San - Gun - Shelly Power - (Gun Talk Riddim) (1991)
31. Mikey Merican & Nando Boom - Know How to Work - Shelly Power - (Gun Talk Riddim) (1991)
32. Junior Demus - Easy nuh Man - Shelly Power - (Gun Talk Riddim) (1991)
Chosen for the reference in the opening tune to the preceeding number from Shabba, '91's 'Gun Talk' riddim is as slack as it sounds. Built around the same 'Chic' sample which features in 'Rapper's Delight', the riddim could be a straight up disco tune if it wasnt for the bouncing bassline and flanged snare, and is one of the many overtly hip-hop influenced riddims from the early 90's.
Junior Cat's 'Trailer Load of Gun' is an altogether more realistic offering than Shabba's, with the chorus: '

Mi have a Trailerload a gun pon di wharf fi come off/anytime dem come off mi give the government half

' elaborating on what seems to be a fairly common phenomenon in Jamaica - gunmen importing weapons in collusion with the government (or vice versa). As his name implies, Junior Cat owes stylistic royalties to Super Cat, and it never ceases to amaze me how many DJ's pin their influences on their sleeves - Ninjakid, Ninja Ford, Junior Demus, Tanto Metro to name but a few. Theres a lot of second rate DJs who seem to regard 'carbon copying' as a quality to be proud of, though given the history of Jamaican music I suppose it's hardly something to be surprised at.
Nardo Rank's 'Love mi Gun Bad' ('

Love dat next door to god'

) zips by after a few bars, and Louie Ranking picks up the Gun talk with 'Don Doc', in which he offers up a bit of reality along with the slackness: '

Dun in the ghetto Louie born and - grow/Say sufferation that is all I - know/Mi daddy used to teach mi how fi to play domi - no/Grow in the ghetto like ah any ram - bo/Tek a jumbo trip and Louie reach mexi - co/Chuk down a mexican mi get a ki - lo/ride fi mi gun pon a wheelbar -row/Love you today kill you tomo...

', but its Papa San's Playful and cautionary 'Gun' which is the standout track in this selection:'

But if a gun/unno want fi talk bout/nuff a dem a coward and no want get dust out/If a gun/unno want fi talk bout/DJ - I gwaan put a padlock pon yuh mouth...

' San also takes a couple of commonly used Gun synonyms and turns them on their head: '

Just the other day mi find the typewriter/Carry go ah school and go gi it to mi sister/In a mi back yard where the boy plant the bomber/mi dig it up send it back straight to his momma...

', and just when you think its all over he launches into a display of the double time vocals which gave him his reputation as a fast-chatter: '

Enough boy me cut up and mi never get a scar - Say/down in a the days of tribal war/Wha mi name/Kill dem all then come back alone cos I man alone a spar/And when the enemies see me then they haffi stay far..

'
The 'Gun Talk' selection finishes with a rare Spanish/Patois DJ combination in the form of Nando Boom's and Mikey Merican's 'Know how to work' (Nando boom also did a solo Spanish outing on this riddim with 'Soy un Hombre Cimple'). And Junior Demus plays us out with the relaxed 'Easy nuh man', a decent enough Nicodemus knock off with a bit of mild homophobia thrown in for good measure.
33. Capleton & Bobby Zaro - Young Fresh and Green - Charm (1991)
34. Ninjaman - Sound Death - Blue Mountain - (Unknown Riddim) (1991)
The next tune, taken from Capleton's excellent 'Gold' album on Charm is a slack homage to young girls: '

Dedicate to all the girls dem/who young fresh and green

'. Little known Bobby Zaro alternates lyrics with a pre-conscious Capleton, but its the riddim (If you know what its called please contact me!) thats the real star here, alternating form the basic Poco 'boom-ch-boom-chick' to a frantic doubled up kick, energetic piano loop, and marching snare pattern.
Despite being on the same riddim, I had a lot of trouble getting into the next tune, as its from a different producer (Bobby Digital) and is also on CD, so the sound is much clearer and dryer that the Capleton tune which comes from a dusty vinyl LP - hence the 'bomb a drop' sound effect to help ease the transition. 'Bunty Hunter' (reissued as part of the 'vineyard revival' series), is one of Ninjamans better LP's and this is probably my favourite tune on the album.The Don gorgon stutters his way over the riddim in his usual fine style whilst giving a brief summary of his Djng career as the riddim goes though the same hectic shifts of pace as in the previous version: '

Listen me ladies and a gentleman/wi give wi soundclash a dem one by one/gi wi 80/wi gi wi 81/82 gi wi dat wi dont bother mention/nuff a dem gwann like dem a champion/when in a 83 wi sekkle down fi version/a play warm and easy in a style and pattern/and in a 84 wi a ride youthman/jump up and a kick up like a wild stallion/and in a 85 wi a settle combination/ah show dem wi a the number 1/Playin music in a pure counteraction/86 we under style and fashion/Battle of the planet and a versus fi the number 1/We just a put down in a bare combination/Fi mi selectah him ave the passion/Ah entertainer pon the reggae version...

' All well and good, but no Ninja tune would be complete without some of his patented brand of badboy braggadocio: '

Say gi me way/Mi ready fi clean mi gun/Gi me way soundboy before you drop pon the ground/Gi me way/unno think mi easy/Mi use mi front teeth gold teeth an kill mi granny/Gi me way/Mi nah have no sympathy/Just the other day mi shot 15 young dog puppy...

'
35. Shabba Ranks & Krystal - Twice my Age - Music Works - (Twice my Age Riddim) (1990)
36. Sanchez & Lady G - Half my Age - Music Works - (Twice my Age Riddim) (1990)
37. Cocoa Tea - Exactly my Age - Music Works - (Twice my Age Riddim) (1990)
38. Papa San and Lady G - Round Table Talk - Music Works - (Twice my Age Riddim) (1990)
39. Gussie Clarke - Twice My Age Version - Music Works - (Twice my Age Riddim) (1990)
For the reasons mentioned above, it was a bit of a nightmare finding a mix out of 'Sound death', and though I was planning on keeping things exclusively DJ based in this set, I ended up going for 'Twice my age', mainly because it has some rare features for these kinds of riddims - a (relatively) vocal free intro and a breakdown right at the start of the track! Despite the cheesiness of some of the tracks in this section, (most of which are singer/DJ combinations) I absolutely love this riddim. Its got a tight driving bassline, loads of edits and frills such as the slap bass/xylophone fill, and the 4/4 kick with marching snare combo, varients of which provide the rhythmic backbone for most of the set.
Shabba makes a second appearance here alongside singer Krystal on 'Twice My Age', which (according to the Greensleeves bio) went to 'number one everywhere that reggae has a chart'. This is taken from Greensleeves 'Reggae Sampler 4' and was produced by old-timer Gussie Clarke, an important figure in the evolution of digital dancehall who ushered in a new crop of 'one riddim' LPs in the late 80's with the 'Music Works Showcase '88' LP (based on the 'Rumours' riddim from the Gregory Issacs tune of the same name). 'Twice my age' is one of a series of 'combination' tracks from the early 90's which featured Shabba, most of which can be found on 1992's 'Rappin with the ladies' LP. The melody that dominates all the tunes in this section may sound familiar as its pilfered from 'Seasons in the Sun', made famous by Terry Jacks' 1973 hit, covered by everyone from the Beach Boys to Westlife, and (this was news to me!)originally translated from 'Le Moribond' ('The Dying Man') by Jacques Brel.
The counteraction to 'Twice My Age' comes courtesy of Sanchez & Lady G on crackly 7". Declaring that she '

Nah waan no cradle robber'

, Lady G hits the nail on the head here as her vocal partner is definitely entering dodgy territory with his chorus. Sanchez was born in 1964, which would have made him 26/27 when this tune was produced, so if you do the maths he's probably right when he says hes '

got to be discreet

'... Cocoa tea takes over for the counteraction to the counteraction, with 'Exactly My Age', the content of which is pretty self-explanatory. Nice vocals, but certainly not the most inventive lyrics. I had to include it though as (is evident from the rest of the set) I just cant resist these little vignettes of counteractions and cross-referential tunes.
Papa San and lady G also colaborated on the Winston Riley produced 'Legal Rights' which covered similar ground as 'Round Table Talk'. Cut to a dubbed out version of the riddim, this is a tale of the domestic strife that ensues when the traditional 'yard' roles are reversed. Lady G takes the oppertunity to inform the stay-at-home Papa San of his new duties: '

First of all I want yuh wash up the dish/Tan in a the yard and help babysit/Look after lunch and give to Cedric/Cos remember him deh pon the evening shift...

' Despite protesting that '

He nah wear make up

' Papa San knows hes onto a loser with this one as he succumbs to Lady G's relentless teasing and brilliantly nagging flow: '

See her now/Hear her now/Watch her now/Come ya now/A she run tings/So how mi si tings a go/She a tell me whe fi do/Ah mi tell mi where fi go/Ah na tell me do fi more when mi caan do no more...'
We wrap up with a very dirty version of the riddim, complete with ghostly noises, phasing snares and the obligatory dubbed vocals. I would've liked to have played this for a bit longer, but as you can hear, my copy is completely fucked!
40. Shabba Ranks - Cant Keep a Good Man Down - Jammys - (Unknown Riddim) (1991)
41. Major Mackerel - Man Tonic - Crat - (Unknown Riddim) (1993)
Taken from the 'Love Punanny Bad' album, which is basically a reissue of Jammy's of 'Star of the 90s' LP, 'Can't keep a good man down' provides Shabba with a chance to showcase some of his more conscious lyrics over a wicked bass-led riddim. Pushed up to plus 8, this is the most vocally gymnastic of the Shabba tunes in the mix and it also features a more positive message: '

All dem a talk and a kick up and a gwan/Nah mek dem keep yuh down/All dem a talk and a kick up and a act/Nah mek dem get yuh down...

' The riddim is full of whimsical little details like the random piano scales and fragments of slide guitar, the only problem mixing-wise is Shabba's completely unpredictable flow, with extra bars of vocals thrown in and out willy-nilly, though it has to be said that this is one of the things which makes his style so attractive...
It took me ages to find a mix out of 'Cant Keep a Good Man Down', but this tune from Major Mackerel's debut LP does the job very nicely. A homage to the power of Jamaican aphrodisiacs this is a seriously slack number, with a somewhat strange idea of what constitutes amorous success. I'm not going to transcribe all the lyrics as they're just too filthy, but here's a brief sample: '

Juk her again say she nah go tek it/Sittin sharp like a razor/Cut her with it/An' he long like a shotgun/Shot her with it/Fat like a magnum/Butt her with it - becaw/Man tonic/Wi haffi man tonic...

' Im a huge fan of Major Mackerel, as I love 'novelty' DJng, and you cant really get more novel than his idiosyncratic style, but unfortunately theres almost no information available about the DJ online. In an effort to redress this sorry state of affairs, Ive quoted a large section of Franklin 'Whyno' Williams' liner notes to 'Nah Run down Man' below (emphasis as in original):
"What makes a Dj outstanding in his field is his ability not only to 'rock' his dance hall fans, but also to have a distinct inimitable style that appeals to both young and old wherever his music is heard. There are few DJ's today whose style and appeal are of the standard that inspires one to recommend them for enjoyment in live performance or on record.To hear this Artiste exites (sic) the listener. Audiences that he has performed for will tell you that his peformances are

devastating

(exhilarating). Born at V.J.H. in Kingston,Jamaica on Christams Day, December 25th 1967, Garfield "Major Mackerel" Dixon is the third child of Reuben Dixon and Epsie George. he has five brothers and seven sisters...
...This Debut Album is bound to be a hit for Producer Donald "Crat" Vassell, as record buyers all over the world have been anxiously awaiting it. Major Mackerel who recieved the 1987 award for being the Artiste with the Most Unusual Style, has kept on winning thousands of fans with his Unigue Style that has taken him not only before audiences in Jamaica, but across the USA, Canada and Great Britain, to mention a few. He continues to woo audiences with his dynamic performances and has the girls chasing him even though he continues to warn them - "Nuh Run Down Man"

"
So that wraps up yet another episode of Blogariddims. Aplogies to all for the late posting, but I have to say I'm a bit relieved to get this one finished as both the mix and this post turned into a bit of a time-burglar. As mentioned in the intro, this is (hopefully) the first of a few ragga/digital dancehall mixes planned for this year, though there's a few non-dancehall sets that will probably see the light of day before they do.
Till next time.