Randall @ Reach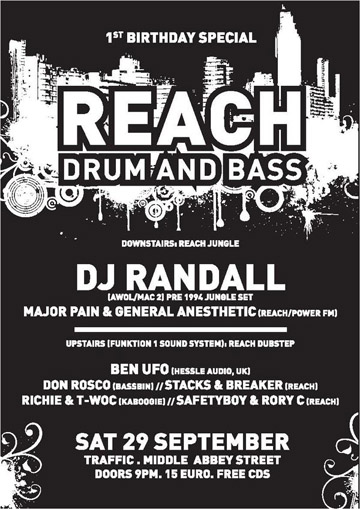 Had a brilliant time at this even though I missed the undoubted highlight of jungle terrier Barry Delta biting the head of Randall for playing Warhead, but apart from that it was all good. Pretty nice crowd and good vibes all round. Even talk of the dubstep crowd revitalising interest in jungle, there was certainly free movement between the two floors.

I missed Naphta's set, saw a bit from Ricky Force, who was playing one of my fave tunes when I walked in - Smokey Joe's 'Shining' remix. Randall was good, tight mixing, but more of a 'greatest hits' of jungle/d+b rather than the pre 94 smorgasboard I'd been expecting. Highlight for me was Ben UFO upstairs in the bar. Stacks/Don Rosco/Breaker all played some nice tunes (if a bit more in the techy testosterone vein), but it was a real pleasure to see Ben, who was obviously enjoying his set, doing loads of nice chops and bass-switching and livening things up with some garage and grime. The man knows his way around the decks! Its only the 3rd time Ive heard Dubstep on a big system, and if I knew I could hear sets like that Id probably go to gigs more often. Also great chatting to the (frighteningly) young whippersnapper.

Lowlight of the night was Ben only getting to play for an hour (boo!) and getting back to the car to drive home and my alarm beeper not working! Had to walk most of the way back instead... just like the bad old radio days.

A few of the sets from Friday are available here, just scroll down to the bottom of the music player.