Yard Styles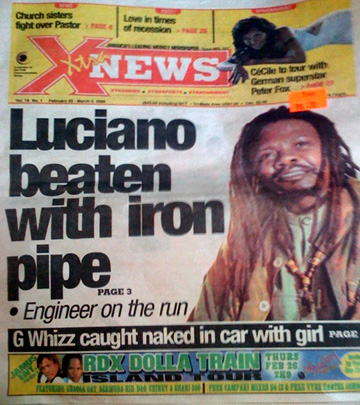 It's been a baaaad start to 2009 for dancehall and reggae entertainers.

*EDIT - updated with video

.

**EDIT AGAIN - Ninjaman video added.
First of all
, and perhaps most shockingly, came the news of the assault on Luciano
which left him with a head wound
. Turns out it was all over a fairly tawdry dispute over money with an engineer who had toured with the messenger and claimed he had not been paid in full. Accusations of violence and fuckery have been thrown to and fro from both sides, but the most complete version of the story came with this
radio interview from Irie FM
.


As if that wasn't damaging enough, this was followed by
a shootout at Luciano's home in St. Andrew
. 3 policemen were wounded, one seriously, and an apparently notorious gunman who had taken refuge in the house was shot dead after a protracted gunfight which took place whilst the singers wife and children were present. Luciano has been taken into custody and is now facing charges of harbouring a fugitive.... all very bad news, especially when it involves one of the most enduringly and consistenly positive reggae artists out there.




Ninjaman
has also
been in trouble with the law
, though thats perhaps less surprising... the severity of the charges may come as a shock to some:
" Dancehall deejay Desmond 'Ninja Man' Ballentine was yesterday charged with murder, conspiracy to murder, shooting with intent and illegal possession of firearm following a shooting incident on Tuesday. The deejay was yesterday charged after an interview with detectives from the Major Investigation Task Force. Head of the Major Investigation Task force (MIT), Assistant Commissioner Les Green, confirmed the charges and added that the case might be mentioned in court as early as next Friday. Ninja Man is now being held in custody."




One time Shabba spar
Risto Benjie of 'Passport Buddie' fame has also been in a
spot of bother
:
Entertainer 'Risto Benji', who is charged with robbing a woman with a knife, was granted bail in the sum of $40,000 when he appeared in the Spanish Town Resident Magistrate's Court on Tuesday.


Last but not least
,
Sizzlas' house burnt down
on Monday:
A fire torched Sizzla's rented house in Liguanea, St. Andrew on Saturday, but no one was harmed in the blaze. The deejay, who is reportedly building a mansion in Stony Hill, had been living at the residence for the past few months. His mother and sister still reside in August Town.


Lets hope the rest of the year goes a bit better for the reggae cru eh?


Thanks to Chocolate Soldier and the
BAF forum
for the front line reports.